Αριθμός γνωστοποίησης: 1286803(ver. 0)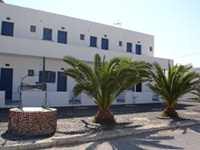 Mary Rooms were built with unique traditional Cycladian architecture, and they combine the beauty of the island with the charm of small hotels, which provides all the modern facilities.
They are located only 120m far from the famous Black beach Perivolos of Santorini. All of our 11 furnished rooms are sunny, comfortable and they have:



• Full equipped cooker
• Air-conditioning
• Coloured TV
• Refrigerator
In the disposal of our customers exist:

• Swimming pool
• Private parking
• Rent a car
• Money exchange
• Transportation with bus from the airport and harbour

We created with big care this wonderful place, that exudes the local hospitality. This is the reason that each stay can offer in our visitors, unique moments of relaxation and unquenchable recollections. The familial atmosphere, the organisation and the particularly friendly and irreproachable service make rooms Mary your own house in Santorini.
Covid-19 policies
- Mandatory Check-out until 11:00 in the morning
- Check-in at 15:00 and then disinfect the room after each stay
- It is forbidden for other people in the area of the building, except for the visitors who are already staying
- We keep our distance from other visitors
- Antiseptic in any room
- Guests can opt out of the accommodation cleaning service, just ask for it
- Bed linen, towels and clothes are washed according to local authorities' instructions
- Use of cleaning chemicals that are effective against Coronavirus
- The pool will not be operational in 2020 due to covid-19
- Charge doctor with charge from you Santorini Medlife Clinic

Tel.: 0030 2286030403 Mobile: 00306978458671
Politiche covid-19
- Check-out obbligatorio fino alle 11.00 del mattino
- Check-in 15.00 e quindi disinfettare la camera dopo ogni soggiorno
- Altre persone sono vietate nell'area dell'edificio ad eccezione degli occupanti
- Manteniamo le distanze dagli altri inquilini
- Antisettico in qualsiasi stanza
- Gli ospiti possono recedere dal servizio di pulizia dell'alloggio, basta chiederlo
- Lenzuola, asciugamani e vestiti vengono lavati secondo le istruzioni delle autorità locali
- Uso di prodotti per la pulizia chimica efficaci contro il coronavirus
- Il pool non sarà operativo nel 2020 a causa di covid-19
- incaricare il medico incaricato dalla propria clinica Medlife di Santorini

Tel.: 0030 2286030403 Cellulare : 00306978458671
Politiques de covid-19
- Départ obligatoire jusqu'à 11h00 du mati
- Enregistrement à 15h00 puis désinfection de la chambre après chaque séjour
- Il est interdit aux autres personnes dans la zone du bâtiment, à l'exception des visiteurs déjà en séjour
- Nous gardons nos distances avec les autres visiteurs
- Antiseptique dans n'importe quelle pièce
- Les clients peuvent désactiver le service de nettoyage de l'hébergement, Il suffit de le demander
- Le linge de lit, les serviettes et les vêtements sont lavés conformément aux instructions des autorités locales
- Utilisation de produits chimiques de nettoyage efficaces contre le coronavirus
- Le pool ne sera pas opérationnel en 2020 en raison de covid-19
- Charge de votre part Santorini Medlife Clinic

Tél.: 0030 2286030403 Mobile : 00306978458671